Tahoma 31 Bermudagrass is a water-saving, cold-tolerant turfgrass.
Developed by the turfgrass experts at OSU
With a long history of developing innovative turfgrass cultivars, Tahoma 31 is the product of 10 years of research at Oklahoma State University, with features confirmed by more than two dozen universities through the National Turfgrass Evaluation program.
In every major category, Tahoma 31 outperforms other bermudas including TifTuf, Latitude 36, Iron Cutter, NorthBridge, Tifway 419 and Celebration.
Low Water Use
Comparing evapotranspiration rates, Tahoma 31 fared best while TifTuf used the most water. Overall, Tahoma 31 used 18% less water than TifTuf.
Cold Tolerance
By the end of the NTEP study, Tahoma 31 was rated by far with the greatest winter survivability in the three year study period, 2014 - 2017.
Early Spring Green-up
In NTEP tests, Tahoma 31 ranked at the top spot for early spring green-up among all vegetative bermudagrass cultivars tested in 16 states.
Turf Quality
Turf quality ratings in NTEP tests at 17 locations over 5 years show Tahoma 31's exceptional turf quality among bermudagrasses.
Traffic Tolerance
Turfgrass quality under traffic in NTEP National Bermudagrass Test. Tahoma 31 exhibits excellent traffic tolerance compared to all other bermudagrass cultivars.
Shade Tolerance
In the opinion of the researchers, Tahoma 31 is a great choice (among bermudagrasses) for partial shaded locations in the transition zone of the US.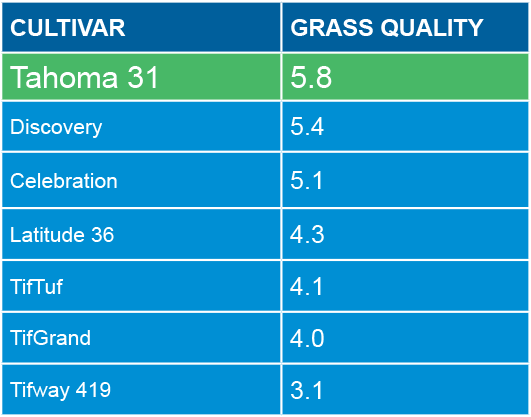 Search Console powered by University of Minnesota
Note: Tahoma 31 is listed 3 times in the Find a Cultivar search bar
Need more research? You got it!